VALLEY VIEW PARK MAP & GUEST RULES
important information for your stay at valley view rv park
Rules are provided online for your convenience. Guests are required to sign a copy to affirm that they have read and understand the park rules. You may download and print a copy to provide to the onsite manager or a copy will be provided to you at check-in.
Valley View RV Park Map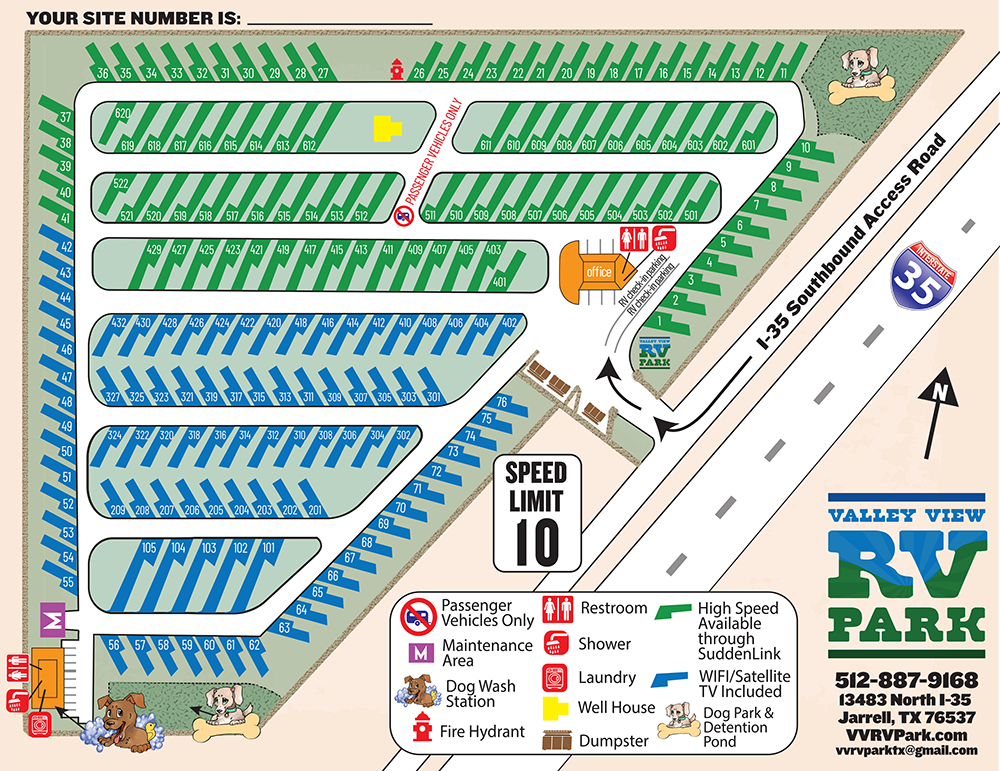 Valley View RV Park Guest Rules
VALLEY VIEW RV PARK RULES FOR GUESTS
The park speed limit is 10 MPH. Please also have your guests observe our speed limit.
Quiet hours are from 10pm to 7am Sunday-Thursday, 11pm to 7am Friday and Saturday. If we must call the authorities one time for a disturbance at your site, you may be required to leave.
PETS: MUST always be on a physical restraint when outside your unit. At no time are pets allowed to "run free". No pets are to be placed in outside pens/kennels or left tied up outside, unattended. No pets over 85 pounds. Noisy or aggressive pets will NOT be tolerated. Cleaning up (removal of animal waste) after your pet is YOUR responsibility. Pick up your pet's waste IMMEDIATELY and dispose of it properly. This includes around your site and anywhere within Park property. This is a health issue for everyone and if you do not comply you may be fined or asked to vacate the Park. There are two (2) dog parks provided for you to exercise your pet. They have large rocks, are unlevel, and may be wet. Use at your own risk and discretion. A Dog Wash Station is provided for you at the south end of the Laundry/Shower Facility- Please help us keep it clean.
Maximum of two (2) vehicles per site. Do NOT park in empty sites or on your neighbor's site without permission. No big trucks allowed. Do not drive on the grass, park only in your space. Please do not trespass on a site other than your own.
Damage caused by you, your guests, or your family is YOUR responsibility. Cutting of trees and plants in our facility is prohibited. NO GREASE or foreign objects in sewer. No digging or hammering stakes in the ground (underground utilities).
Children under the age of 14 must have adult supervision in all common areas. Children must always be supervised and accompanied by a parent/guardian.
No go-carts, ATV's, dirt-bikes, skateboards, in-line skates, drones or remote-controlled toys, are allowed to be used in the park. No playing in the streets or water drainage areas for safety reasons.
No vehicle repairs shall be made on these premises (let manager know if you have a vehicle issue). All coaches/trailers and vehicles MUST have current tags and/or inspection stickers.
Gas grills are allowed on your patio. No campfires, charcoal grills or fireworks allowed.
Williamson County Health Department REQUIRES a watertight fitting at all sewer connections. You must have a screw-in or compression fitting for connections. (TCEQ Title 30, CH 285 & 366)
Alcohol abuse will not be tolerated. Please report any illegal or suspicious activity to manager.
No vehicle or RV washing in the Park. We are on a water conservation program year around.
No clothes lines or other devices for the hanging and drying of laundry outside of your unit allowed.
No window unit a/c, freezers/refrigerators; no furniture other than customary "outdoor furniture", no perimeter fencing; barriers nor pallets are allowed.
No climbing on or over the rock wall.
No smoking, and No alcohol permitted in any building. If you have a concealed carry permit, please register with Park Manager.
Please leave the bathrooms as clean as you found them. Only one (1) adult at a time in bathrooms.
Remove clothing from Laundromat promptly. Park is not responsible for lost or stolen items.
For your benefit, we have security cameras on property, and a Neighborhood Watch Program at this Park.
Drive in the streets. Do not cut the corners. Turning radius is best at the end of streets. If you are pulling your RV, please DO NOT use middle turn-around (passenger vehicles only).
You are being provided services under a Site Service Agreement. You are NOT under a Landlord/ Tenant Arrangement- THEFT OF SERVICES APPLIES. Cancellation Policy is posted on our website www.vvrvpark.com
Your site must always be kept litter- free — including cigarette butts. Do not let items accumulate, clutter under or around your unit. Please dispose of your trash in the dumpster provided (at front gate).
IF YOU FAIL TO COMPLY WITH ANY RULES YOU MAY BE ASKED TO LEAVE THE PARK
HAVE READ AND UNDERSTAND THE RULES FOR VALLEY VIEW GUESTS. I AGREE TO ABIDE
BY THESE RULES AND WILL VACATE THE PREMISES AS DIRECTED, IF I AM NOT IN ACCORDANCE.
Extended Stay Service Agreement
VALLEY VIEW EXTENDED STAY RULES
You must follow all the Valley View Rules for Guests.
You may NOT assign or sublet your
No out-buildings or structures of any kind may be erected anywhere within our facilities without the park owners expressed written approval and consent.
Rent and electricity payments are due on the first (1st) day of each month per Site Service You will be charged a daily late fee of $5.00 for each day past due after the 5th day of the month, NO PARTIAL PAYMENTS. Sorry, we maintain a NO REFUNDS Policy.
You will be charged $35.00 for all checks returned for any reas Payment must be replaced immediately. This payment, and all future transactions, must be paid in cash, cashier's check or money order; personal checks will no longer be accepted.
Valley View RV Park will not tolerate nor condone any onerous, noxious or offensive activity of any sort that could interrupt and/or adversely affect the enjoyment of other parties utilizing our facilities. In the event of such onerous, noxious or offensive activity, in the judgment of park management, the parties responsible for such activities will be required to leave the Valley View RV Park
THEFT OF SERVICES
Under NO circumstances should you consider yourself a tenant with a lease. This agreement does not constitute a landlord/Tenant Agreement.  Payment for site is entirely for services under a Host/Guest arrangement.  According to Texas Penal Code, Sections 30.05(a) & 31.04(b), any guest who leaves without paying for site services or who refuses to pay for site services when due, is subject to criminal prosecution. We will prosecute these violations under "Theft of Services Law".
INDEMNITY AND WAIVER OF LIABILITY
I, the customer, indemnify and hold harmless the owner and owner's employees or agents for any and all claims, costs, demands and expenses, including reasonable attorney's fees, arising from any and all damages or injuries caused by fire, water, wind, civil strife, or acts of God related to my use of services and facilities at Valley View RV Park.
AFFIRMATION
As a customer of Valley View RV Park, I fully understand and accept these rules and regulations.  I also agree to vacate the premises at the request of management if I violate these rules and regulations.  This agreement does not constitute a Landlord/Tenant Agreement.  Payment for site is entirely for services under a Host/Guest arrangement.
Cancellation Policy
In order to reserve a site, we must collect payment and/or deposit.
For cancellations the following applies:
Daily/Weekly Reservation:
Cancelled with a 14-day notice: Full refund (minus credit/debit card processing fee of $30.00) will be made.
Cancelled with less than a 14-day notice, NO refund will be made.
No partial refunds if you leave earlier than the original scheduled date.
Monthly Reservations:
Cancelled with a 30-day notice: Full refund of deposit (minus credit/debit card processing fee of $30.00) will be made.
Cancelled with less than a 30-day advance notice, NO refund will be made.
No refunds if you leave earlier than the original scheduled date.